Skip Tracing Services for Debt Collection
Skip tracing is important in the rapid recovery of your assets and some consider professional skip tracing to be an art. Our collection staff has access to the most successful tools in skip tracing today.
Our collection staff is professionally trained and skilled in the art of skip tracing. This is the process of efficiently locating your customer who cannot be readily located by the usual telephone or mail procedure. A person who is avoiding lawsuits and bill collectors or who has simply moved around will leave a trail to follow. We use high-powered technology in conjunction with good, old-fashioned investigative skills to track down debtors.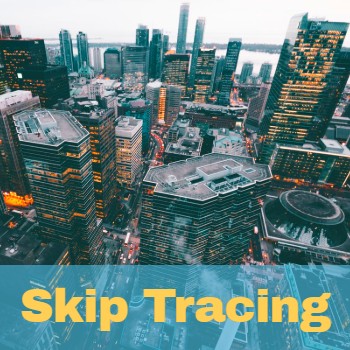 In compliance with the FDCPA, no information is given to outside parties except that we are attempting to locate the consumer.
Fully automated search services from an industry leader deliver mission-critical information. This high volume search and delivery service is designed to provide the information necessary to manage your business. Pinpoint search logic provides cost effective, high-speed results on the most massive search to support our unique application.
With almost two billion documents compiled from more than 27,000 independent sources, the search is uniquely qualified to meet the information demands. Searching online public records content, compiling information from thousands of sources including business, financial, legal, demographic, and statistical data, makes every search complete.
The compilation of reliable bankruptcy information, judgments, liens, or any other information is a valuable tool. This screening and locating technology assists the collector in efficient professional collection programs.