Skip Tracing Services for Debt Collection
What is skip tracing in debt collection?
In simple terms, skip tracing (skiptracing) is the process of finding someone who has "skipped" town or departed, sometimes in a hurry, leaving minimal clues behind as to their new location. The person being located is the "person of interest" (POI) who prefers not to be found. This is common in debt collection when the contact information on an account is no longer valid.
To "trace" the "skip" to a new location is basically an investigative technique that finds "skips" (or people who have skipped out on their financial obligations). It is also sometimes called "debtor recovery."
Skip tracing is important in the rapid recovery of your assets and some consider professional skip tracing to be an art. Our collection staff is professionally trained and have access to the most successful tools today for effectively locating missing debtors. We use high-powered technology in conjunction with good, old-fashioned investigative skills to track down your missing debtors.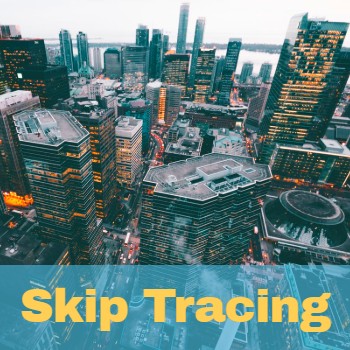 These cases require a lot of research and, depending on the case, a moderate amount of legwork. As a recovery firm, we spend a large amount of time locating missing debtors so we can begin effective debt recovery solutions.
Please note: In compliance with the FDCPA, no information is given to outside parties except that we are attempting to locate the consumer.
We respect the privacy of every individual and seek only to obtain informational allowable by law and operate within the scope of legal investigations. We study to remain current on industry regulations and adhere strictly to the guidelines.
Debt recovery resources for skip-tracers include:
county records
mortgage records
lender/lein holder records
phone number databases
credit reports (including information provided on a loan application, credit card application, and in other debt collector databases)
job application information
criminal background checks
utility bills (electricity, gas, water, sewage, phone, Internet, and cable)
social security
disability
and public tax information.
The compilation of reliable bankruptcy information, judgments, liens, or any other information is a valuable tool. This screening and locating technology assists us in efficient professional collection programs. We are sometimes able to provide additional information to our clients on the missing debtor.
Sometimes the debtor has declared bankruptcy, has deceased or is in an active military duty (if so, different rules apply to collection proceedings).
Since skip tracing is an intricate research process, outsourcing to a debt collection agency simultaneously provides skip tracing services in addition to other critical functions such as keeping pace with the latest compliance, certification, data security and call center technology.
As Jana Ferrell, we adhere to the legal guidelines outlined by the laws and employ the most talented skip tracers who utilize the latest technology to locate missing debtors. The skip tracing tools we implement are effective in helping us locate debtors for our clients every day. We get the job done.